Cypris
COMMENTS
Distribution:- Cypris is cosmopolitan in distribution.
Habit and Habitat:- Cypris is free- swimming and occurs in freshwater stagnant ponds.
General characters:
1) Cypris is commonly called mussel shrimp.
2) Body is unsegmented and laterally compressed
3) At the anterior end is the median eye.
4) Compound eyes and heart are absent.
5) Antennules and antennae are large biramous and help in swimming.
6) Development by parthenogenesis.
7) Head bear four pairs of appendages, antennules, antennae mandibles and maxillae.
Economic Importance:
It is used to manufacture some light.
Daphnia
COMMENTS
Distribution:- Daphnia is widely distributed in India, Asia, Europe and U.S.A
Habit and Habitat:- Daphnia is found in freshwater, ponds, streams and ditches.
General character:
1. Daphnia is commonly called water flea.
2. Body except the head is enclosed in a bivalve shell or a large fold of carapace.
3. Body is soft, laterally compressed measuring 1-2 mm in length.
4. Sex is separate.
5. Segmentation is very imperfect.
6. Carapace ends into a pointed dorsal spine.
7. Abdomen is devoid of appendages.
Economic Importance:
Daphnia are not used by humans as a good source directly.
They are involved in many of the food chains necessary to sustain fish.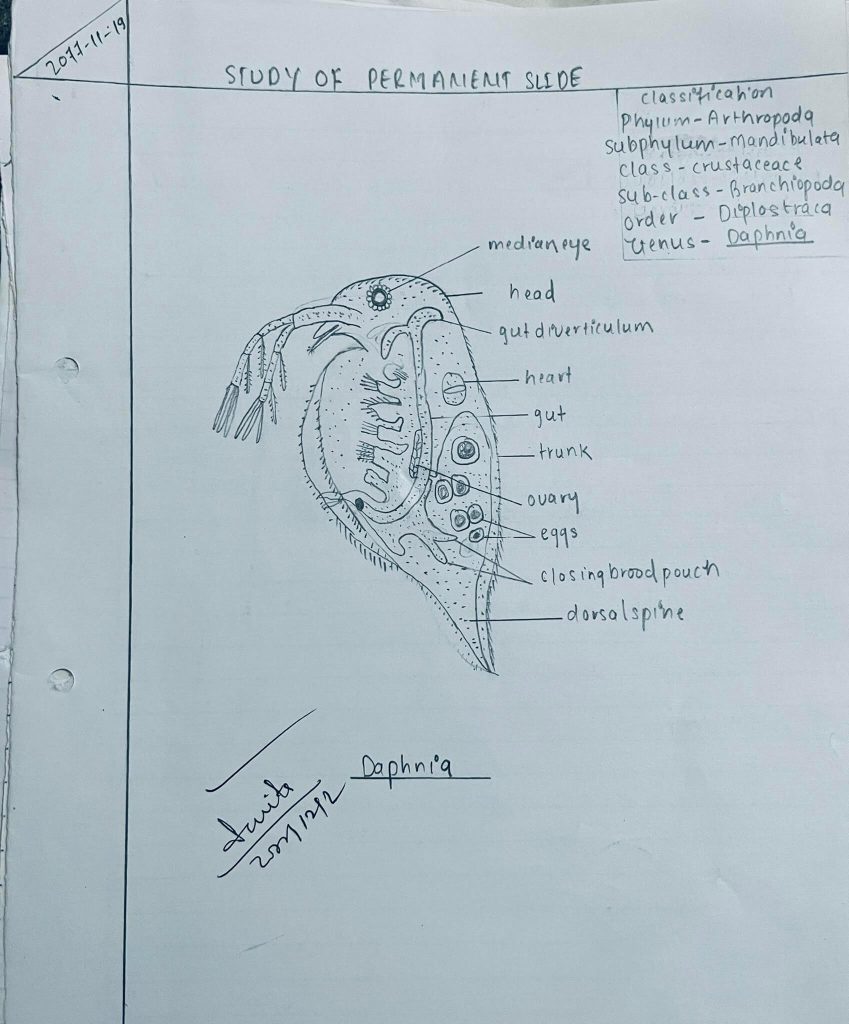 Daphnia