Tubipora
COMMENT
Distribution: – Tubipora is found on coral reefs in warm waters of Atlantic, Indian and
Pacific oceans.
Habit and habitat :- Tubipora is a marine colonial polypoid Anthozoan.
character:-
1) Multicellular, issue grade, diploblastic and acoelomate.
2) Exclusively marine and polypoid, medusoid stage absent:symmetry, hexamerous.
3) Polyps always bear eight pinnate hollow tentacles and eight complete mesenteries; single ventral siphonoglyph, polyps dimorphic in some form.
4) Colony consists of simple or branched stems arising from a creeping base each stem is very elongated, polyp bearing lateral polyps.
Economic importance
1) Decorative value
2) Jewellery and Ornament.
3) Medicine
4) Building and road construction
5) Cement industry.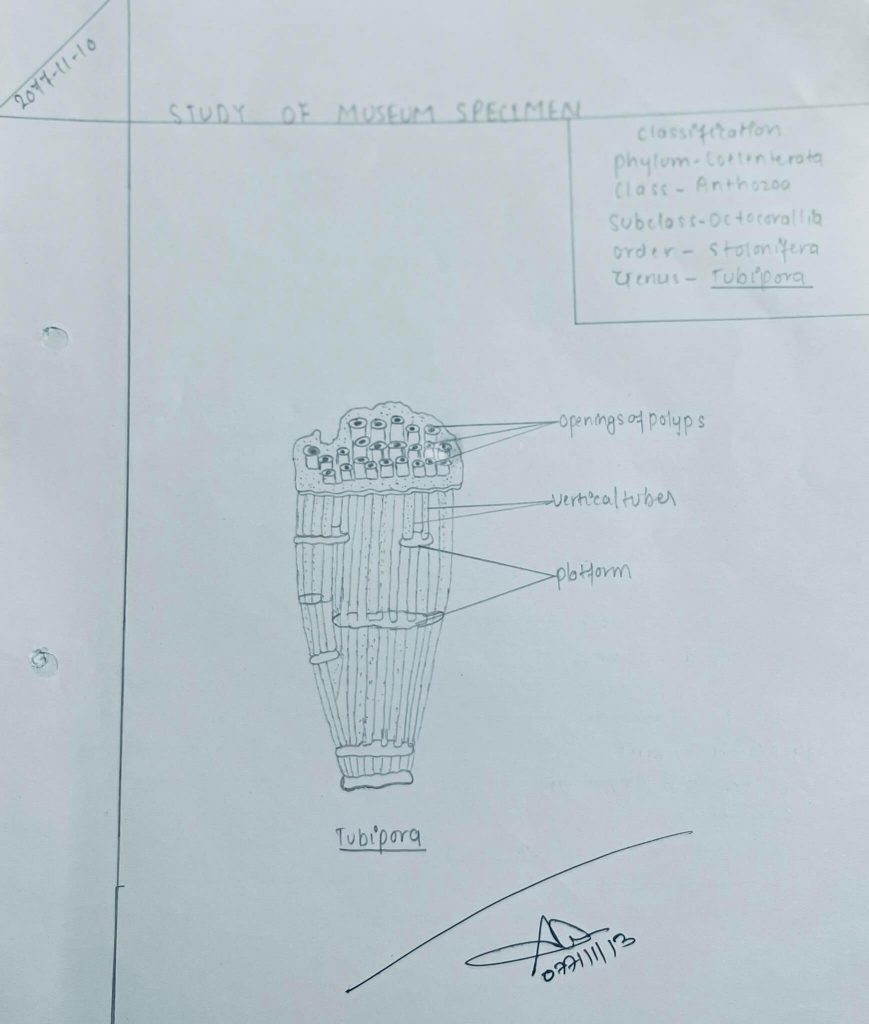 Tubipora
Physalia
COMMENTS
Distribution:- Physalia is found in tropical and sub-tropical seas.
Habit and Habitat:- Physalia is a marine, colonial, swimming or floating pelagic animal.
Character
1) Physalia is a colonial hydroid commonly known as Portuguese man of war.
2) Colony has a large pneumatophore with bladder-like elongated points of both ends 6 to 12 cm long.
3) The swimming bells or necro calyces are absent.
4) Tentacles are large and bear stinging batteries or nematocysts to kill the large fishes and prey.
Economic importance of physalia
physalia:-
They are important in human Jewelry or in the house.
Physalia protects the fish from the predators with its stinging cells while the fish atracts the larger fishes towards Physalia and thus helps in supplying food to physalia.