Madrepora
Distribution:- Madrepora is found in the Australian seas, west Indies and Florida.
Habit and Habitat:- Madrepora is a colonial, marine form.
COMMENTS
1) Madrepora is commonly known as a horn coral.
2) Colony is branched with small polyps in cylindrical cups separated by perforated.
3) Terminal polyps bear six tentacles, while internal polyps bear twelve tentacles..
4) Mesenteries are bilaterally arranged.
5) It plays an important role in coral reef formation.
Economic Importance
Purdue calcareous reef and ultimately build dry land.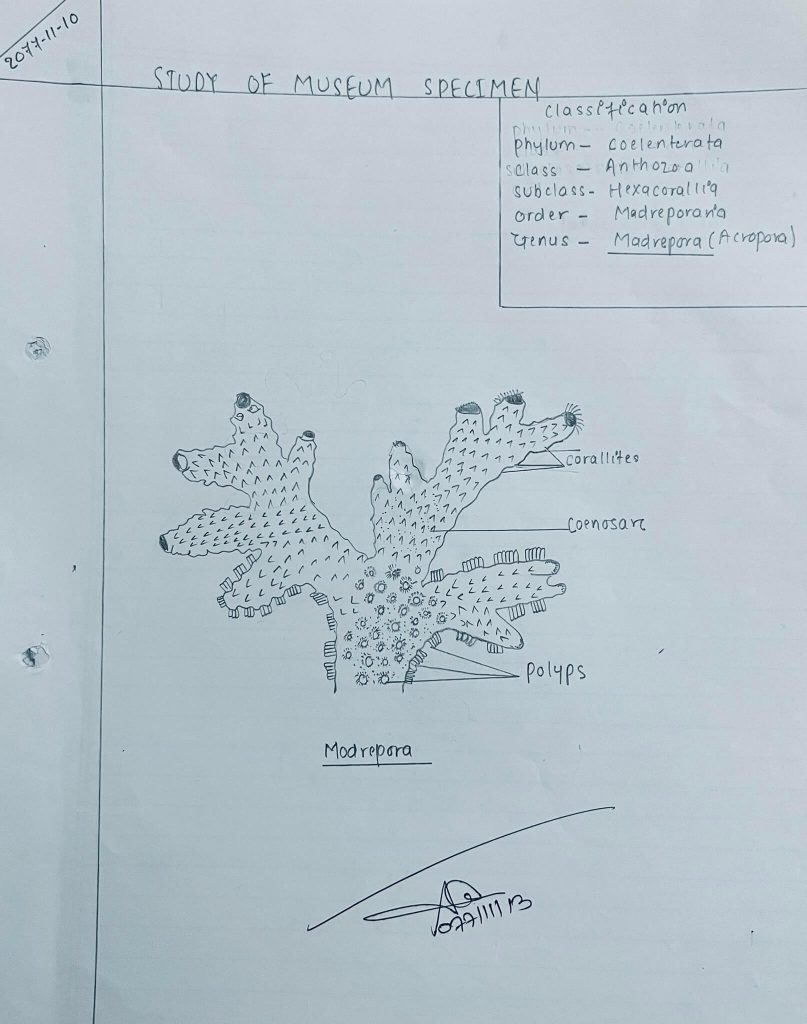 madrepora
METRIDIUM
COMMENTS
Distribution:- Metridium is found on the Atlantic Coast, New Jersey to Labrador pacific coast and Europe.
Habit and Habitat:- Metridium is a large sessile, brightly coloured, solitary, flower-like form. It is marine form, found attached to the rocks, piles of wharves and solid objects from tide pools to a depth of 90 fathoms.
Comments
1) Metridium is commonly known as sea anemone.
2) Bady is short, cylindrical, and radially symmetrical, divisible into three distinct regions. pedal disc, column and oral disc.
3) Pedal disc is a muscular broad base of foot by which it is attached to the substratum.
4) Gullet or stomodaeum is provided usually with one or two Siphonoglyphs.
5) Sexes are separate. Gonads are borne on the mesenteries.
6) Asexual reproduction by fragmentation and budding.
Economic Importances
Metridium is used as food in Italy.Coral reef formation.