Loligo
COMMENTS
Distribution:- loligo is cosmopolitan in diagram, found along the entire pacific and Atlantic coast, India, China, and the U.S.A.
Habit and Habitat :- Loligo is a marine form, found in warm seas and coastal shallow or deep water. It is a fast swimmer in the open sea water.
General character:
1) Loligo is commonly known as squid.
2) Body is spindle or torpedo-shaped and it is divisible into head, foot and visceral hump.
3) Head is short and bears a pair of large eyes and a central mouth surrounded by ten arms.
4) Foot is modified into the funnel and the ten arms.
5) Two elongated gills are present in the mantle cavity.
6) Two nephridia or kidneys are also present.
7) An ink sac is present and serves for defense.
8) Sexsare separate.
Economic Importance :-
It is consumed as food. Its neurons are one thousand times larger than their counterparts in humans.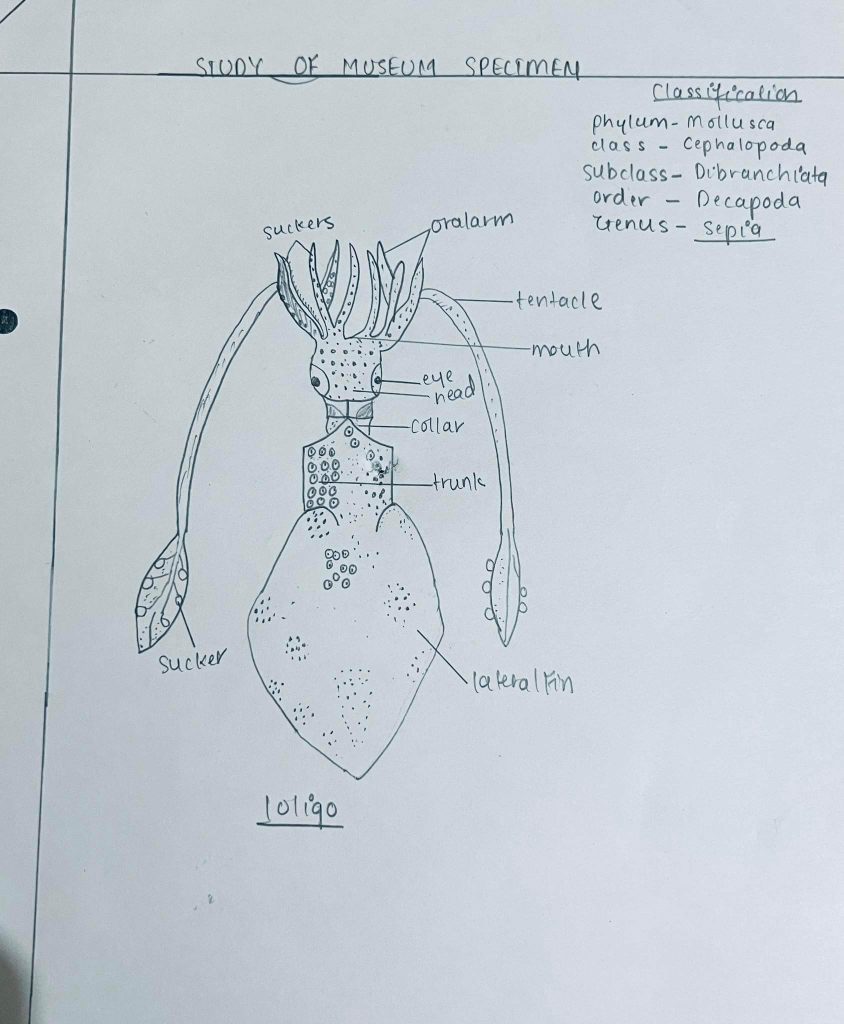 loligo
Limax
COMMENTS
Distribution :- Limax is cosmopolitan in distribution. It is specially found in India, Europe and the U.S.A.
Habit and habitat:- Limax is terrestrial, found in gardens , over damp soil and cultivated lands, and most woody regions.
General characters
1) Limax is commonly known as gray slug.
2) Body is elongated and tapering behind and is divisible into head, foot and visceral hump.
3) Head bears two pairs of retractile tentacles, the posterior part of the tentacles bear small black eyes at their tips.
4) Pulmonary aperture lies on the right side of the mantle.
5) Hermaphrodite
6) Nocturnal and herbivorous.
7) Visceral hump is elongated and flattened and pointed posteriorly.
Economic Importance:-
It is considered as agricultural pests it can harm (feedon) cultivated plants.