Arenicola
COMMENTS
Distribution: Arenicola is distributed in Europe and the U.S.A.
Habit and Habitat: Arenicola is a marine worm that lives in U-shaped burrows of sand and mucus. It is found in Mediterranean and European shores.
General characters:
1. Arenicola is commonly known as lug warm or lobe-worm.
2. Body is stout, elongated, cylindrical worm- like measuring up to 20 to 25 cm in length and brownish or greenish in color.
3. Body is divisible into three regions, anterior middle and posterior.
4. Middle region or branchial region comprises thirteen segments bearing parapodia and branched gills.
5. Posterior region or post branchial region is much thinner consisting of a variable number of segments devoid of parapodia setae and gills.
6. Mouth lies ventral to the prostomium.
7. Nephridia are six pairs.
8. Arenicola is generally used as bait in fishing.
Economic Importance
Arenicola can be beneficial by negatively impacting the population of small rodents and insects.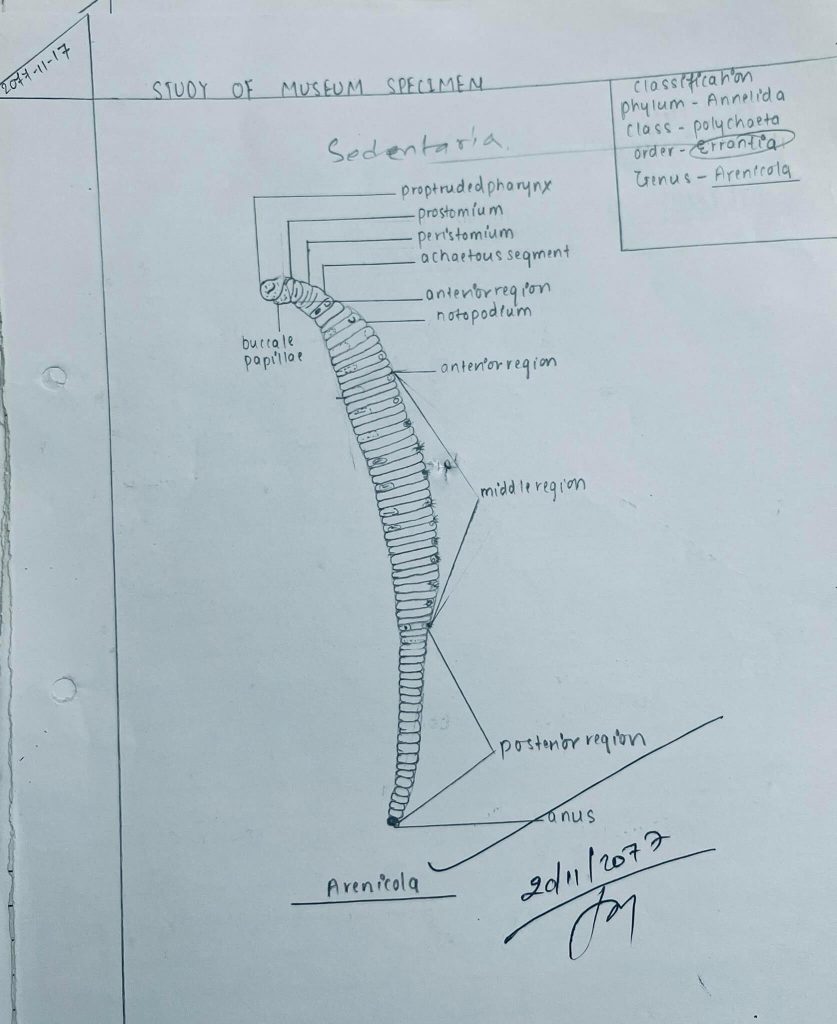 arenicola
Tubifex
COMMENTS
Distribution: Tubifex is found in U.S.A
Habit and Habitat: Tubifex is a fresh water form, occurs in patches on the muddy bottom in the freshwater ponds and lakes. The animal lives in tubes made up of mud and minerals glued together by mucin.
General characters:
1. Tubifex is a small slender worm, measuring about 4 cm in length and reddish in color.
2. Each body segment except the last few are provided with four bundles of setae on the dorsal and ventral sides.
3. Setae Forked and hair-like in dorsal bundles and only forked in Ventral bundles.
4. Hermaphrodite.
5. Clitellum is formed in the 11th and 12th segments.
6. Contractile heart is found in the 8th segment.
7. No asexual reproduction.
8. Sexual reproduction is very common.
Economic Importance
Tubifex worm are often used as a live food for fish, especially tropical fish and certain other freshwater species.